We have some great fundraising opportunities COMING UP!
If you need tickets or information to any of these fantastic events please call 705 742 0806 or email katelynk@alternativesptbo.ca
Behind Closed Doors – Lansdowne Place
We are excited to be apart of Lansdowne Place's annual Behind Closed Doors private after-hours shopping event. Customers will enjoy wall-to-wall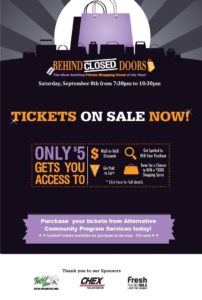 "Black Friday" type sales, a
fantastic giveaways, and one lucky winner could WIN a $1,000 Shopping Spree simply by attending.
100% of the proceeds of the ticket sales go to Alternatives and the renovations at our Neighbourhood Project.
We have tickets – contact 705 742 0806 or visit Lansdowne Place customer service (please refer to Alternatives Community Program Services when purchasing).

Halloween Bowl-A-Thon
Join Alternatives for some spooky fun at our annual Bowl-A-Thon
BEST COSTUME PRIZES
Tickets are $15 each or $75 per lane up to 6 people
Lots of fun and Prizes!
Friday, October 25th 2019 6:30-8pm at Lakeview Bowling 109 George Street N.